I'm thrilled to bring to everyone today, an interview I conducted with Sharon Martin. Sharon is from Hospice.
New York, Manhattan was built by pioneers, by mavericks, who were not scared to be bold and think big, and that is something Sharon does. I consider her a celebrity and a maverick. Last year she was honored at the Chicago conference as a national example of how to extend hospice care and really reach a ton of families, especially in the minority community where there has been a stigma about hospice in the past. And I wanted to know how all that came about.
What had happened that lead up to the Chicago and the national Tennessee experience was that word started getting around other hospices that the submission rate in Cleveland County escalated from 17% to 52% in the African American community. So all the other hospices when they heard it were all like, what did you do.
On a national level, only 8% of the African American community uses hospice services. We're at 52% which is just an amazing number on the national level.
Any business or organization that have those kind of numbers should be in the S&P 500. Those are amazing numbers, and to raise a submission rate from 17 – 52% in any endeavor is not as simple a task as it might sound. A lot of that has to do with the overall hospice plan here in Shelby, and Sharon is a main player in doing that. She is an outreach person for this community. This is a job that requires heart. Successfully going out into a community to discuss something as sensitive as end of life care, is not an easy thing to achieve.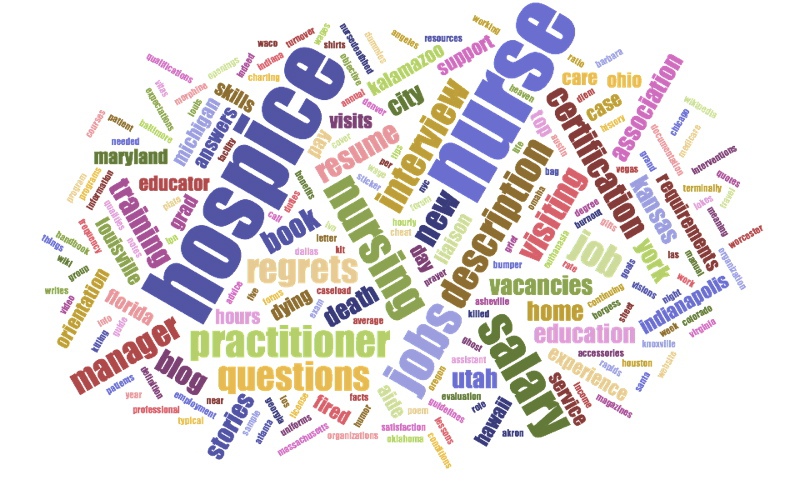 I took a lot of hard knocks when you go out in the community and start talking about hospice. Immediately people of all races start thinking, okay we're dying tomorrow, mamma's dying, pappa's dying tomorrow. But that is not the case. We even now have a patient in our Wendover facility, that has been with us three years, and so it can go into long term care. It can go into short term care but what I like to tell people, to get the most out of hospice services, as soon as your physician says to you or to the family, I only think 'Sharon' has 6 more months to live, that's when the family should really be seeking out hospice services, so the family and the loved one can get the full benefit of hospice services.
Sharon has been with hospice for over 6 years, but did not at first want to get back into the work force. I wanted to know how she got involved with hospice in the first place?
"Six years ago our CEO Myra McGinnis and vice president Patty McMurray determined that the African American community in Cleveland County were not using hospice services as they would like.
And so what I learned after being hired was that this discussion went on for about 10 years, just trying to think of ways to engage the African American community with hospice services.
I was retiring. I had been laid off from a mental health agency, and so I thought I'm going to retire because my background is in social services, and mental health and also in ministry so. Later on I learned I was the one they were looking for but I was not the one who wanted to work, so they actually had a hard time getting me to come in for an interview.
A friend of mine called me and said Sharon there's a job at hospice that has your name on it, that job is perfect for you.
It was Bishop Michael Moore and he said that job is yours, and I thanked him and said but I'm not going to work and I hung the phone up, not quite that rudely but I'm not even going to talk about this. Anyway, he calls back a couple of days later, and said Sharon seriously that job is definitely for you, and I said I'm not interested in the work, I'm not going to work. I just want to be a grandmother to my two grand children and I'm just going to go to their school and enjoy life helping them out in school.
After the third call, I decided out of respect to him to call Patty McMurray and Hospice about the position. I was hired in 20 minutes after talking to Patty. So that's how I became a part of the hospice family.
And it is a family. Hospice is a very tight knit community of people who wear their hearts on their sleeves. This is more than just a job to Sharon, and I asked her if she would explain why that is.
How I found out about hospice on a personal level was 30 years ago in Akron Ohio, where my parents were and where I was raised. My mother called me one day and told me my father had terminal colon cancer, and she said Sharon, I'm going to allow an agency to come in and call hospice. Well at that time I was in Greensborough NC and this is what I said to mother, what is good for you is good for me.
And so as I would travel back and forth to Akron to visit my parents, I learned first hand how the hospice staff would come in and take care of my dad, and give him a bath, and do whatever was necessary to take the relief from my mother. So that was what was so comforting to me, because my parents had been married for 52 years and my mother was not going to leave my dad.
And so my dad was at home, and hospices services came in, and after my father died this is what I said to my mother one day, if I ever have any money to contribute to any organization, it would be hospice Akron Ohio. Little did I know I would be working for hospice Shelby NC. So that's a great comfort to my soul.
I think hospice does an amazing job. I'll tell you what is amazing about Shelby and Cleveland County is it is unreal the great services we have in every different type of industry related to senior care. I mean nationwide beacons, from Life Enrichment and Suzi Kennedy to Hospice and Sharon Martin. I just can't applaud Sharon enough for being held up as a nationwide model on how to reach and convert a population, any population and take it from 17% to over 50%. That is just impressive and she deserves all the praise she gets from that.
One of the questions that I know there is some confusion about, is people in general seem to think of hospice as a physical place, which it does have but it is much more than that, and so I asked Sharon if she could clarify some of that confusion.
Many people, not only African Americans, they just have this great fear of hospice services. For some reason they don't understand end of life care. So that became a challenge to be able to just talk to the community in general about what end of life care was.
A lot of people look at hospice as a place. Hospice is not a place, and that is what I really want the audience to understand. Hospice is a concept of care. Just like a hospital is a concept of care, hospice is a concept of care.
And that is that we try to make a persons life more comfortable as they go towards death. But what is so unique about hospice care is that we help the entire family, not just the patient. If we go into a persons home, and we've seen there is a great need, maybe a power bill needs to be paid, maybe a family doesn't have food in the home, whatever that family needs, then that is what we will try to provide for the family.
So it's like holistic care, we take care of everybody that is involved.
So don't think that hospice is just the hospice house in Kings Mountain, and the hospice house in Shelby. It is so much bigger than that, it reaches the entire county, which brings up another question that causes some puzzlement. How many people does hospice actually help?
People think that we only serve 24 patients a day, but we have two facilities which is the place that people are at, and that's Wendover in Shelby and the Testa family house in Kings Mountain. Well the total patient load with those two facilities are only 24 patients so they might question when I propose to people when I'm doing talks and presentations how many people do you think we serve per day?
And people just look at me with a puzzle in their face and then I'll say just go throw out a number, and they'll start 40 and then 60, and I'll say higher, 80, higher, 100, higher, so we play this little high/low game, and finally when someone says 150, that's when I stop, because that is exactly how many patients we serve every day, 150. Last year, in 2015, we went all the way up to a 190 patients. Well that's because we serve people in their home.
That is a daily number, that is unreal. Think about that, hospice ministers and administers care to so many more than 24 people on a daily basis.
And just like Little House on the Prairie, where the doctor made house calls, the hospice family are really in peoples homes. The doctor comes out to the home, the nurses, the hospice workers come out to the home, and do not just care for the individual who is suffering. I've talked to some hospice workers and administration before, and it's really so much more than that. They are really ministering and helping the spouse and the family as well.
Hospice is a hospital on wheels. We go into a person s home, we set up a bedroom, a living room, just like a hospital facility would, we have a hospital bed, the nurses, the nca2's?? we have a chaplain, a grief counselor, a social worker that makes up the team. So 6 people are working with this family in their home to take care of their loved one.
So that's what we do, we go into the home and make everybody feel comfortable and wonderful. We take the burden off of the family so they can spend all their time with mamma, daddy, or sister, and just be there for the loved one, to love on them as the process of dying increases. That's the main thing I want to say.
So we were talking about an individual who needs hospice care, a whole family who needs hospice care. If hospice is serving a 150 people daily, and all the many workers they must have, I know that they do fund raisers, but I know that can't possibly come close to paying the bills. So how can people afford it, how can hospice pay for it?
Well we are actually non-profit so we do rely on the generosity of the community but what I really want everyone to know, if the person has Medicare, 100% of their hospice services are paid for by hospice care. So we will never ask that person to pay out of pocket, as long as they have that red, white and blue card, all of their hospice expenses are paid for.
On the other side, even if a family doesn't have the money to pay for whatever is needed, the donations, the generosity of people in Cleveland County, like the Testa family, they are going to make sure, and other families that have made yearly contributions and donations, we make sure a family gets the same care as if they had a million dollars as compared to they only have one dollar. So everybody gets the same care no matter what.
Well that is right along with our entire philosophy at McIntyre Elder Law, and just fits right in with helping seniors protect their assets and legacies. Keeping them in control of their assets and providing them the best health care options possible. And I mean I know first hand from having many many clients and families who have dealings with hospice.
The Hospice family has always been so kind to everyone at McIntyre Elder law. They let us use their facility up there to do events for seniors once in a while. Hospice is just a blessing to the community.
The last thing to I'd like to mention is about 'Hearts for Hospice.' I asked Sharon to tell us about that.
It is a fund raiser that we started 5 years ago. It's been a very profitable fundraiser where we are only asking people for a one dollar donation. We have a heart that Pam Isaac our marketer created and it's called hearts for hospice, it's two lives, in memory of and honor of, and from, and you can buy a heart for a dollar and we will post it up on our wall, or you can keep it yourself. All the money that you contribute for hearts for hospice goes for patient care.
So this is a unique thing about hearts for hospice, we started asking people for a dollar, and the first year it was predicted we wouldn't raise $500 but we raised $4000. In the last 5 years we've raised almost $27'000 with hearts for hospice because people would give a dollar, some people would give $100. So it kind of evens out. Some of the children want to buy a heart, they only have a quarter, so I said that's alright.
Please call me. I will mail them to you, bring them to you, there is 25 in a pack.
Sharon's number is 704 751 3591 and that is her direct office number.
So call Sharon, she would love to talk to you.
I'm Greg McIntyre of McIntyre Elder Law. I hope you have enjoyed this weeks Elder Law Report, and hope the information provided by Sharon Martin will help dispel some of the common misconceptions associated with Hospice.
Until next time, Make it a great day.
Call For Your Reservation:
704-259-7040
Greg McIntyre

Elder Law Attorney
McIntyre Elder Law
123 W. Marion Street, Shelby

704-259-7040
Posted on February 25, 2016
in Articles
Leave a comment